The usual avalanche of new releases on the App Store on Thursdays has been shadowed this week by the launch of the iPad 2 in the US. While analysts predict that 600,000 of the new devices could be sold only this weekend (this doubles the first generation's figures,) developers won't rest on their laurels and have optimised their apps for the new device.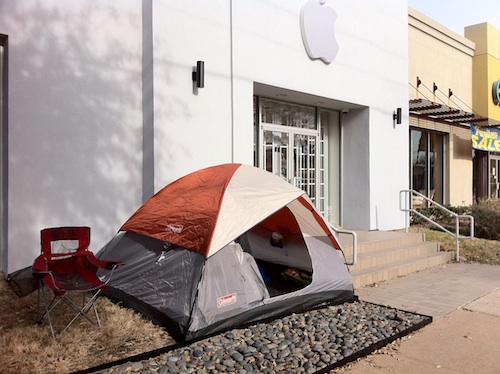 iJustin camps once again. Picture via macrumors.com
If you are a new iPad 2 owner and was wondering what to download, here is a good wrap up of the freshest games and apps of the App Store. First generation iPad owner like me? Don't worry, all these will work perfectly on your obsolete tablet. Stop playing with the Smart Cover and go to iTunes to get some of the best looking iPad games available now.
Dead Space for iPad by Electronic Arts
I'm not a real fan of FPS games and hate horror movies. However, I thoroughly enjoyed what I believe was the iOS game of January. Using a parallel story of the console Dead Space franchise, this sci-fi shooter has the best plot and dialogues ever seen on a mobile game. To top it up, developer Visceral Games has put together amazing graphics, crisp textures and lighting effects up to Infinity Blade's standards (continue reading.)
Infinity Blade by ChAIR Entertainment
Apple has never given a toss about iOS games, but if there was a game to be showcases during the iPad 2 announcement last week, that was Infinity Blade. Along with a huge update dubbed "The Deathless Kings," which brings more content to an otherwise repetitive game, the new version also takes advantage of the iPad's improved horsepower. The RPG gameplay is not like your usual Final Fantasy and there is a big deal of swiping to attack and parry enemy moves.
Real Racing 2 HD by Firemint
Yes you are right. The developer of the cute Flight Control is also the king of racing games for iOS. With the success of the first Real Racing and after monetising the concept with some ad-supported driving games, the sequel Real Racing 2 for iPhone and iPod Touch was one of the big hits this Christmas. Too bad it wasn't a Universal game. I believe many iPad gamers decided to wait playing Gameloft's GT Racing Academy or EA's Need for Speed Hot Pursuit (both brilliant and cheaper) instead of purchasing a premium game which was not ready for the iPad big display despite its Retina Display graphics. Firemint claimed to have been working hard to have a proper Real Racing 2 HD and its release date just happened to match the iPad 2 launch. While this HD version has improved anti-aliasing, the graphics on the iPad 1 looked a bit too jaggy for my taste.
Archetype HD by Villain
If you are more into online first-person shooters, you will love Archetype. it's launch was brought some fresh air to the scene dominated by Ngmoco's freemium Eliminate, but who plays that these days? I wrote on my review that the ability to play five-on-five matches in a proper co-op mode convinced was the way to go. Now that Archetype has reached its maturity with a huge content update: Twenty levels, three modes including capture the flag, a good variety of weapons,… With all these goodies, I just hope that the lobbies won't collapse this weekend.
GarageBand by Apple
I'm not very fond of DJs using MacBooks on stage, but even these guys are not using GarageBand. If you know the Mac app, you know its an excellent musical time waster that won't produce anything particularly good, but it appeals to everyone with its promise of making music easier. After trying it this morning I have to admit it. This is the best apps Apple has produced since the iOS iWork suite and it is by far its most creative one. The App Store already boasts of apps that mimic real instruments, so guess what, this one has them all. Its low price will keep it in the Top 10 Paid list for weeks and I hope it doesn't kill initiatives from the likes of Smule. It's time to start to recognise it. You will buy it to play the virtual guitar in front of your friends.